About Dr Mark Kreamer
About me:
First and foremost, I would like to start by saying I love chiropractic! I have such a passion for helping transform families' and kids' lives with the power of chiropractic. Chiropractic promotes the body's ability to adapt, heal, and regulate itself so it can reach its fullest potential.
My first experience with chiropractic care was my freshman year of college. I had injured myself playing basketball. I went through the medical system, where surgery was in my future. A friend of my mother suggested that I see a chiropractor first. After a month of chiropractic care, I was back to normal and have not had a problem since! I remember walking out of the office that day thinking I want to be a chiropractor one day.
I graduated from Parker University, where I received a Bachelor of Science in Health and Wellness, a Bachelor of Science in Anatomy, and a Doctor of Chiropractic. I currently live in the amazing city of Grapevine with my wife Kindal and our 3 beautiful fur children Penny, Gracie, and Stella. I love being able to provide care to my fellow neighbors and residents of Grapevine and surrounding cities.
I promise that I will provide you, your family, and your children my absolute best, so you and your family can reach their fullest potential. The journey to living a healthier and fuller life is right around the corner. I look forward to helping make that journey possible!
Lots of Love,
Dr. Mark Kreamer
Our treatment methods:
Diversified technique: This technique focuses on the motion of individual segments. If an area of the spine is restricted or has decreased motion an adjustment is applied by hand to the segment to restore the motion. A restricted joint in the spine can lead to degeneration and postural changes.
Thompson technique: This technique focuses on leg length analysis to determine where the subluxations or misalignments exist. The adjustment is made by hand using a segmental drop table to help reduce muscle guarding and allows for a quicker and smoother correction of restricted joints.
Activator technique: Like Thompson, this technique focuses on leg length analysis along with using particular movements and motions to determine where in the body subluxations or misalignments exist. This technique utilizes an instrument to make the adjustment, rather than by hand. This technique is the gentle way of adjusting and is a great alternative for anyone who does not like the "crack" or "pop" sound that can be heard with the other techniques.
Webster technique: This technique is used primarily used for pregnant women and involves a specific way of analysis and diversified adjustment to reduce the effects of sacral and pelvic subluxation or misalignment, thus improving neuro-biomechanical function in the pelvis. The technique proposes that sacral misalignment or subluxation may contribute to three primary causes of dystocia (difficult labor) via uterine nerve interference, pelvic misalignment, and the tightening and torsion of specific pelvic muscles and ligaments. The resulting tense muscles and ligaments and their aberrant effect on the uterus may prevent the baby from comfortably assuming the best possible position for birth.
Office Info: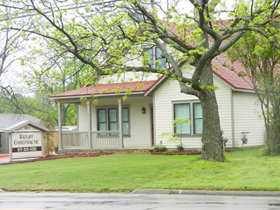 Hours:
Monday: 8am-12pm and 2pm-6pm
Tuesday: 8am-12pm
Wednesday: 8am-12pm and 2pm-6pm
Thursday: 8am-12pm
Friday: 8am-12pm and 2pm-6pm
Phone: 817-329-8393
Email: dr.kreamer@mkchiro.com
Address: 1011 W. Wall St. Suite 2, Grapevine TX 76051
Insurances we accept:
Blue Cross Blue Shield, United Healthcare, Aetna, Humana, PHCS, and Scott and White
We also have a full time massage therapist and acupuncturist in the office